Professional
Business Collaborators
D.C. Bach Company has completed hundreds of utility-subsidized projects, working with more than a dozen utility companies start-to-finish across the Pacific Northwest. These retrofits range from businesses of 3,000 to 300,000 square feet in size.
A few examples of our customer portfolio are below. Click on a logo for more information on that project.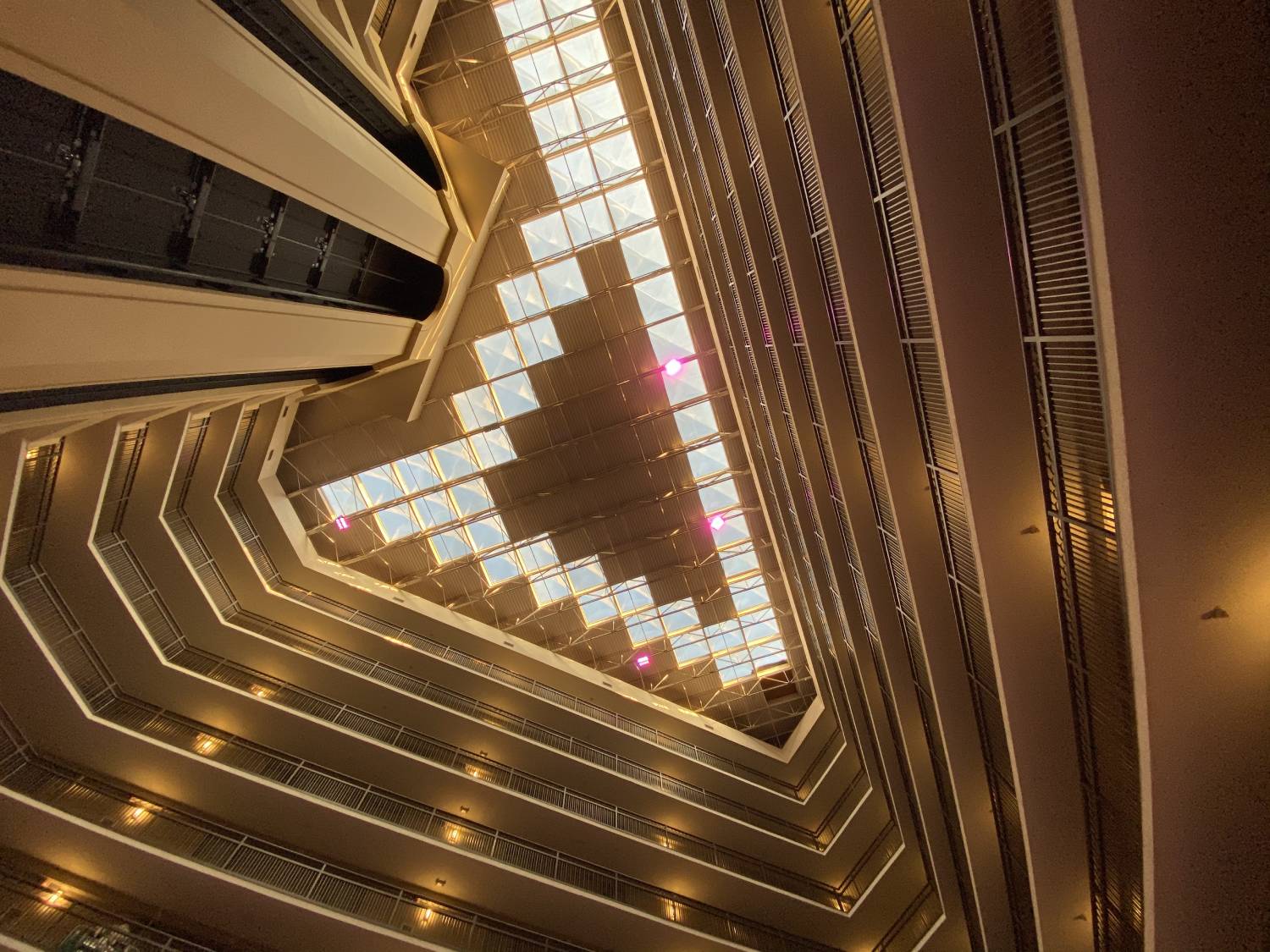 Pietromonaco-Jackson Properties
PSE, SNOPUD & Seattle City Light rebates: $207,000 (and counting)
Trust is one of the most important factors when considering a multi-thousand-dollar lighting upgrade investment. D.C. Bach earned that trust from Pietromonaco-Jackson Properties, which is why they've solidified us as their primary lighting vendor for all potential LED upgrades to showcase their 29-building, 1.85M square foot portfolio. Consultation, design ideas and a fluid line of communication have all been constants throughout our partnership since 2017. Did I mention D.C. Bach has secured more than $200,000 in combined utility incentives for the 30+ projects we've completed together?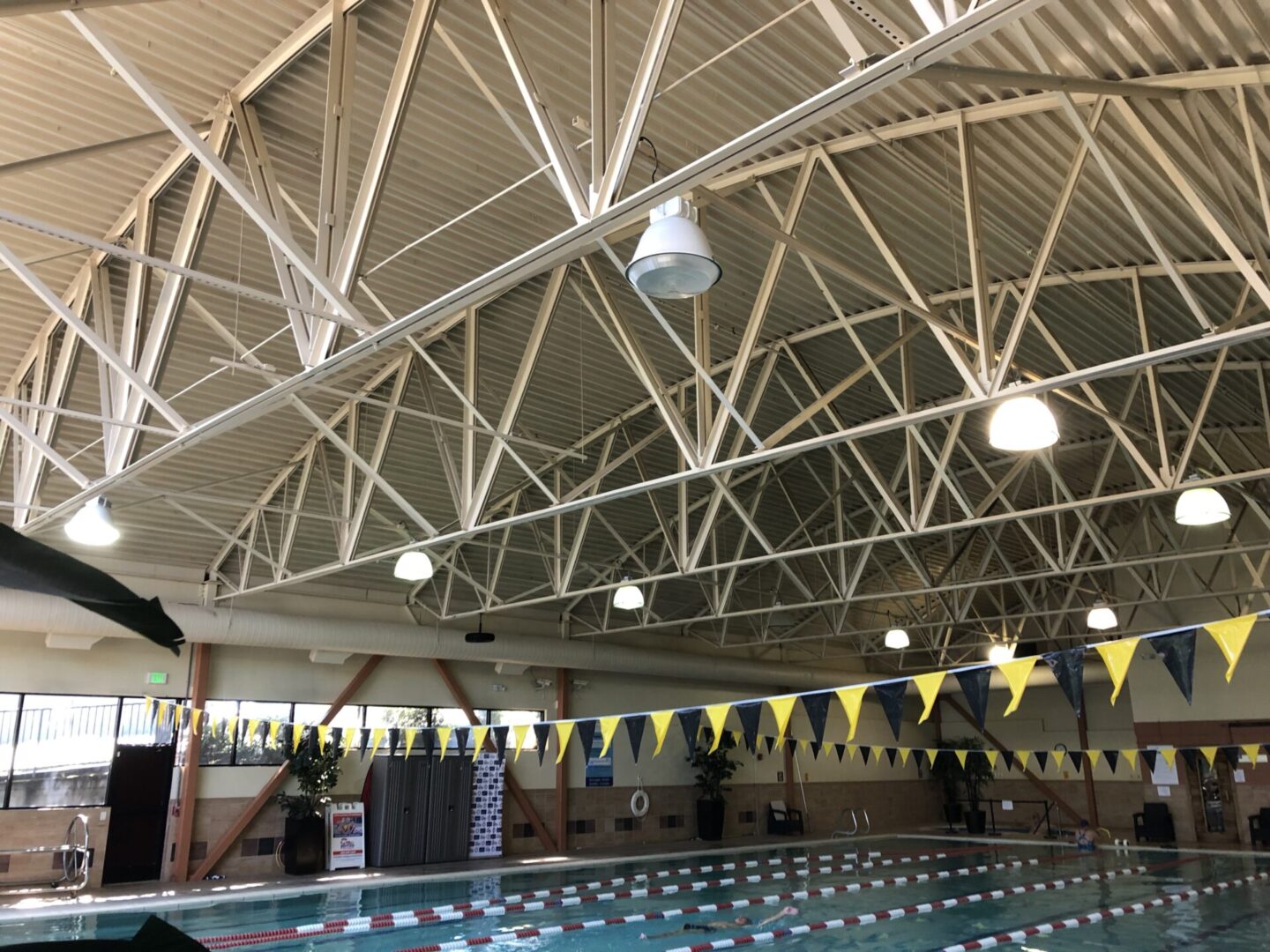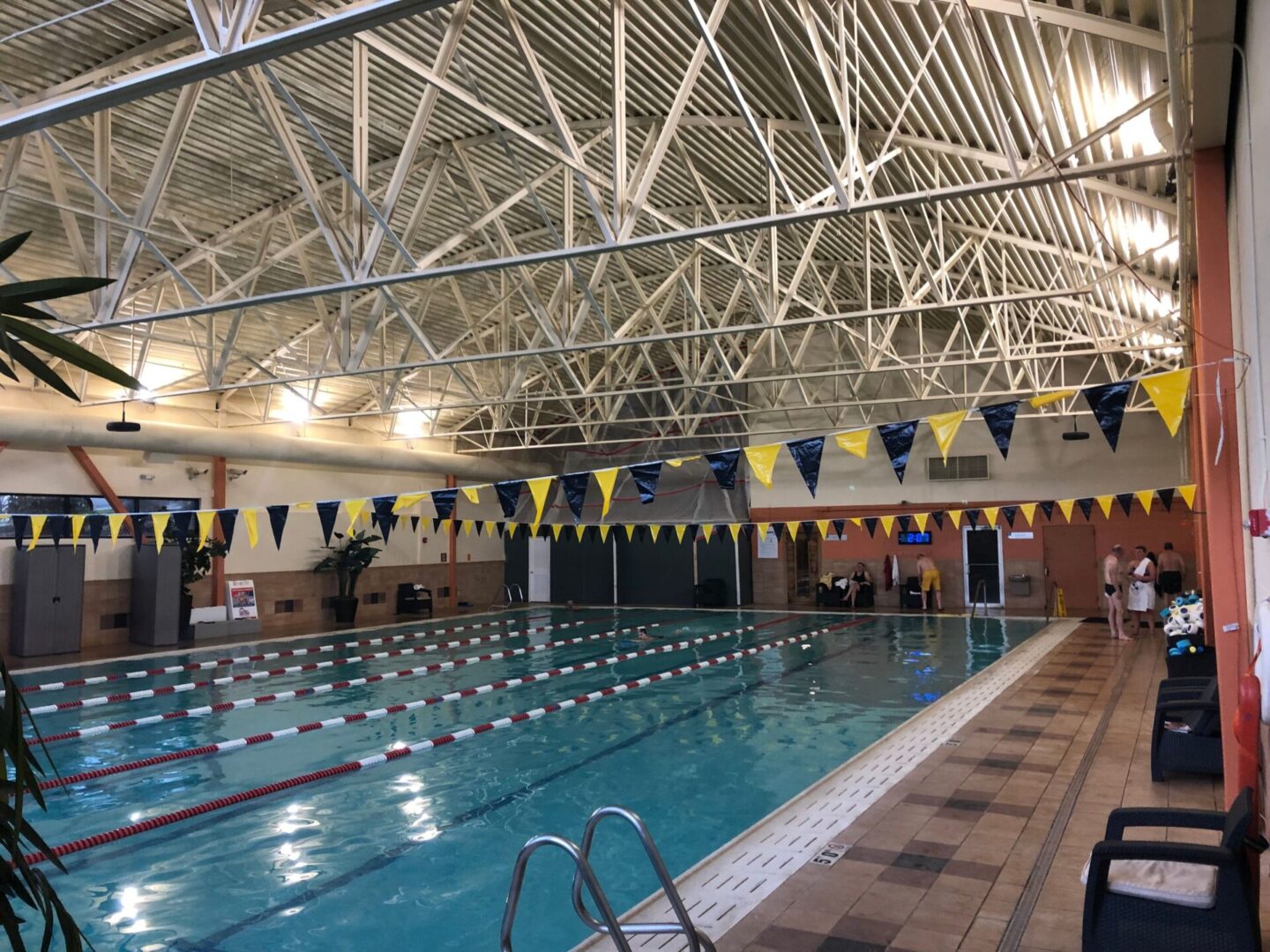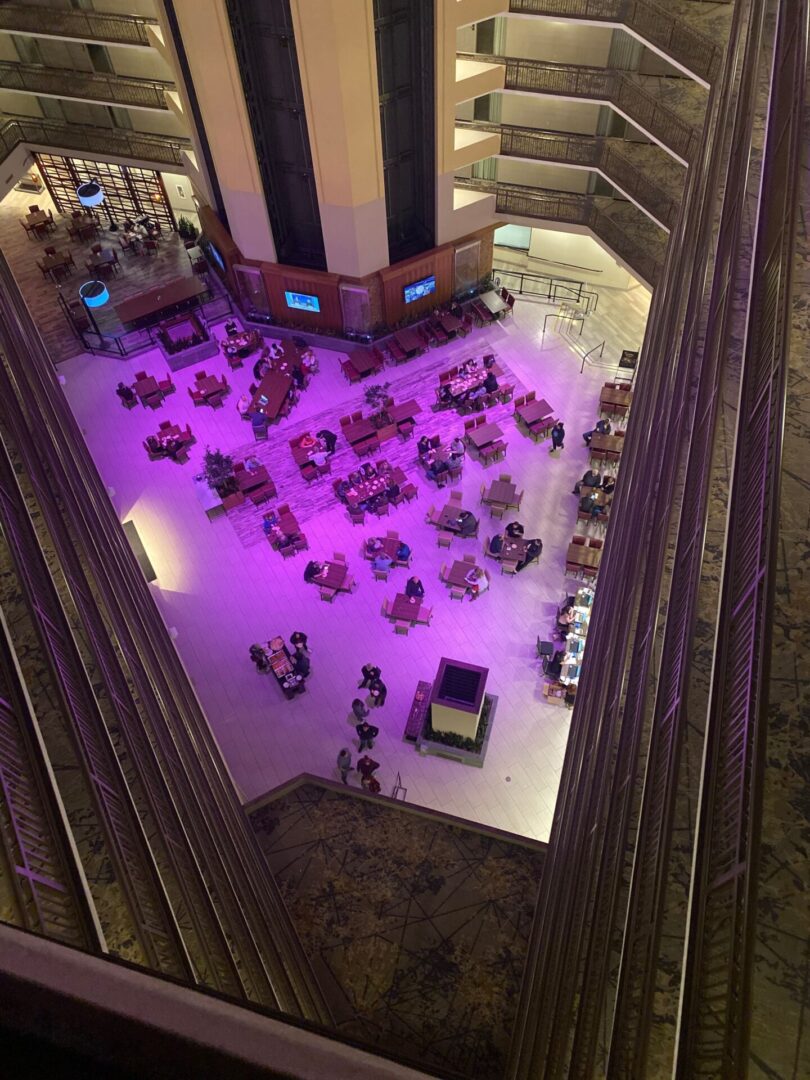 Energy Trust of Oregon rebate: $52,171
Embassy Suites by Hilton's Washington Square location is considered one of Aimbridge's flagship hotels. The 9-story, 210,000 sq ft property needed its lighting to match its superb level of hospitality. After revamping the Bellevue, WA Embassy Suites, D.C. Bach was put to the task of replacing every single interior and exterior light on the Portland suburb location's premises. Incorporating daylight harvesting and occupancy sensor controls, the upgrade of all 356 suites and surrounding areas resulted in an estimated $49,918 per year in energy savings. In addition, D.C. Bach introduced the atrium to Color Kinetics® by Philips, rotating scenes of colorful ambiance over the guests as they dine and socialize 100ft below (pictured). This first-class establishment further cemented itself as a destination hotel in the Portland area.
Bellevue Presbyterian Church
Puget Sound Energy rebate: $57,286
Attention to detail is how D.C. Bach won the bidding process and was selected as the vendor of choice to handle the sprawling 280,000 sq ft. religious complex located in the heart of Bellevue. With endless upgrade possibilities, it took back-and-forth feedback with facility administrators to decide what direction would best fit the church. After presenting an array of options, the scope was settled and turned out brilliantly. From the moment you enter the building, you'll be greeted with warm and welcoming illumination all around. Together, we slashed lighting energy costs by more than 60%, saving an estimated $35K annually.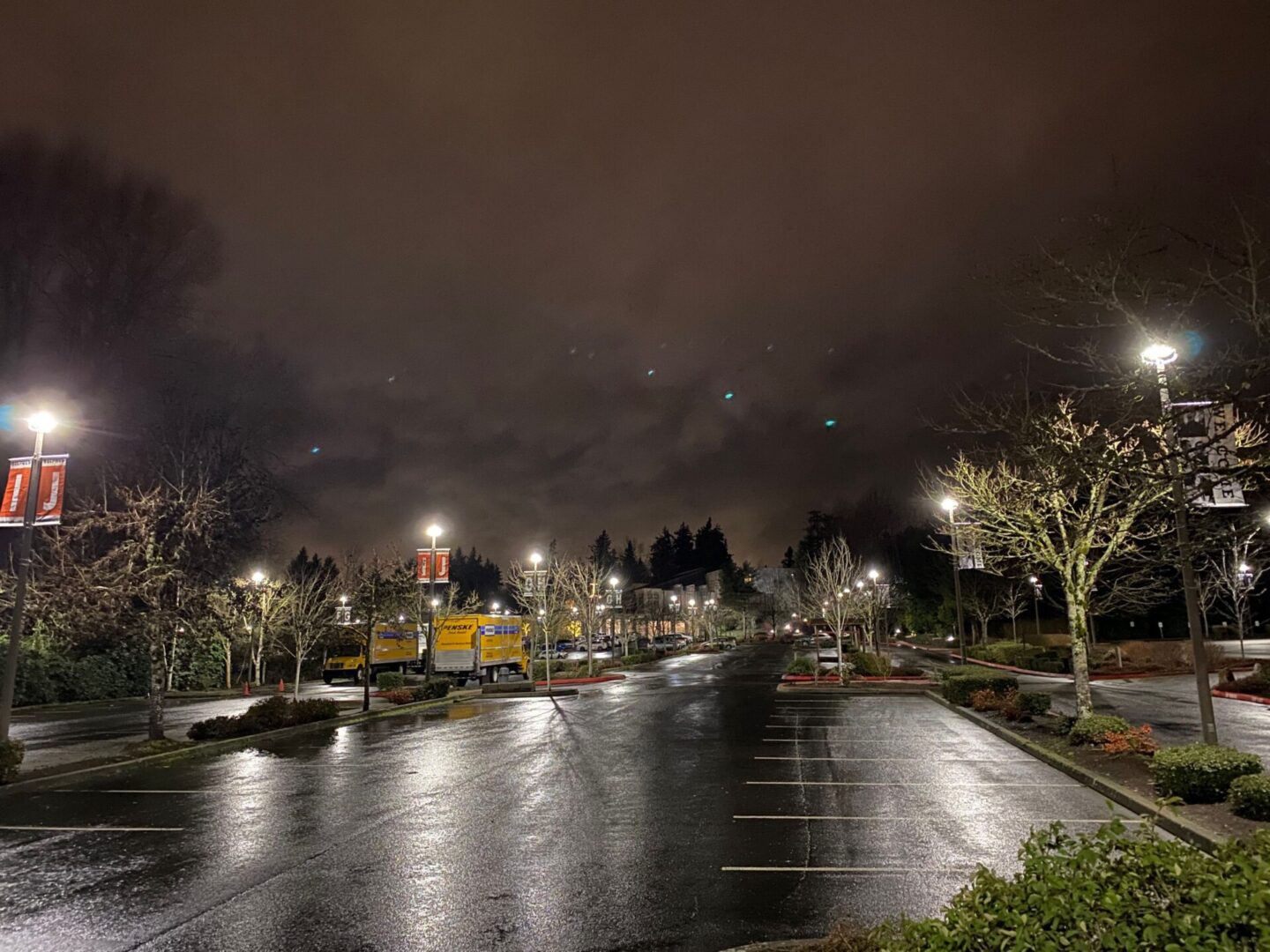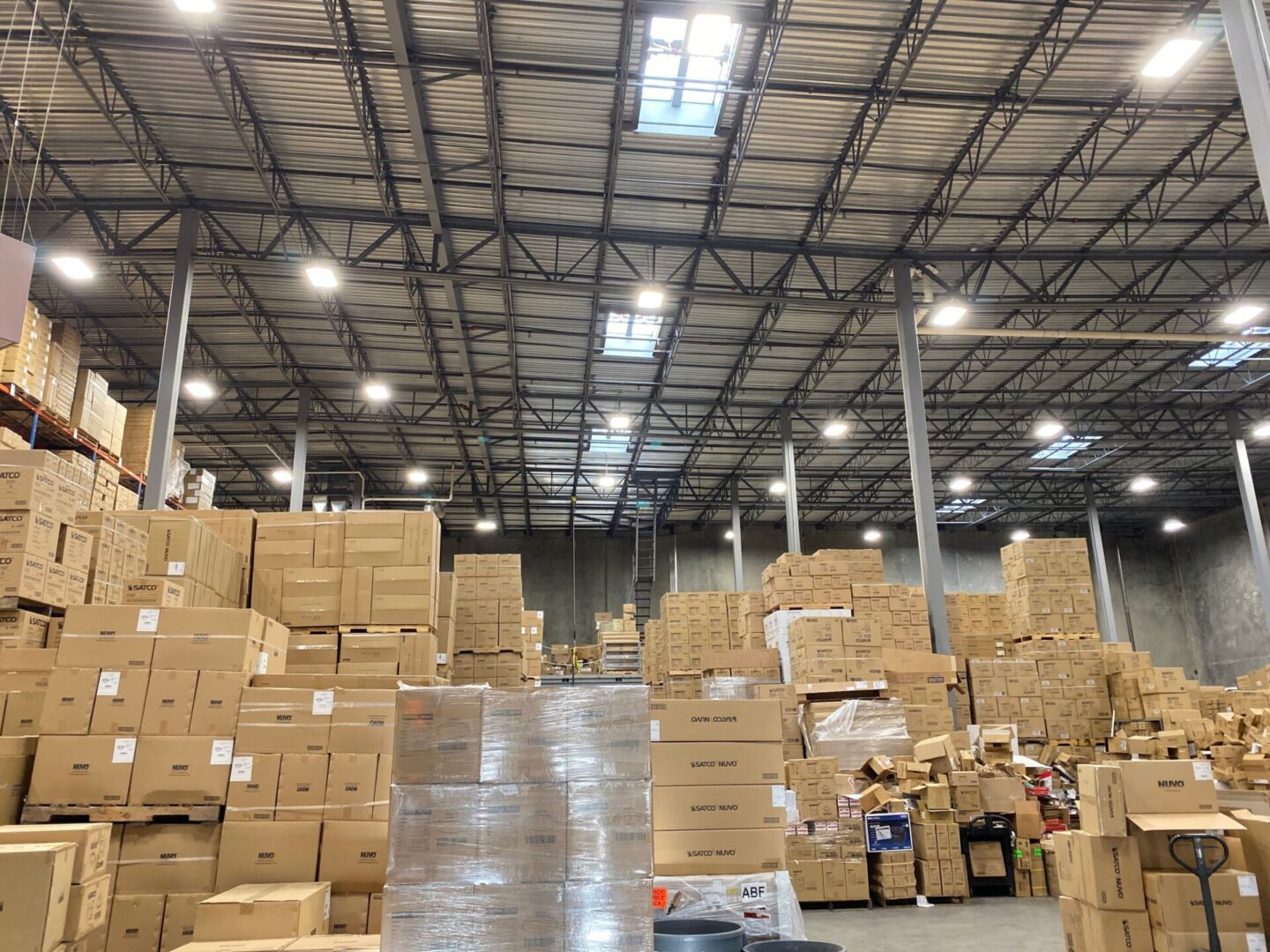 SNOPUD rebates: $7,639
You know you're doing something right when one of the lighting industry's giants chooses you to perform its facility's LED upgrade. The two-way business partnership between D.C. Bach and Satco Products, Inc. dates back to the 1990's and continues to thrive today. The global manufacturer decided it was time to practice what it preached- and converted the entire facility over to LED technology…using all Satco brand models, of course. D.C. Bach installed hi-bays in the warehouse (pictured), color-selectable flat panels in the offices and high output wall packs and floods for the exterior. By doing so, Snohomish PUD helped pay for the projects and determined an annual savings of $4,518.
Puget Sound Energy rebates: $457,132

One of only 12 "High Voltage" customers in Puget Sound Energy's entire service area, The Seattle Times' 350,000 square foot Eastside Distribution Center in Bothell, needed a lighting makeover. Competing with many suitors, the D.C. Bach Company prevailed as the vendor of choice to tackle this monster scope. Over 8,000 lamps, 500 high bays and nearly a thousand man-hours later, the entire facility's interior came out bright and shiny, saving a crisp $62,000 per year in energy costs.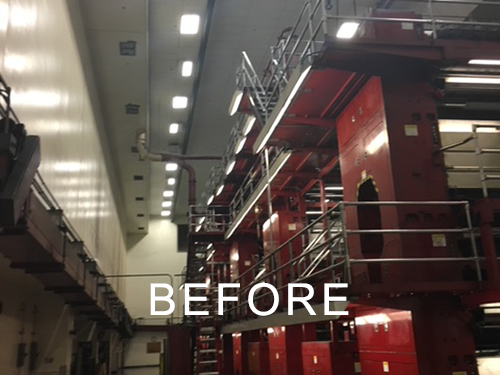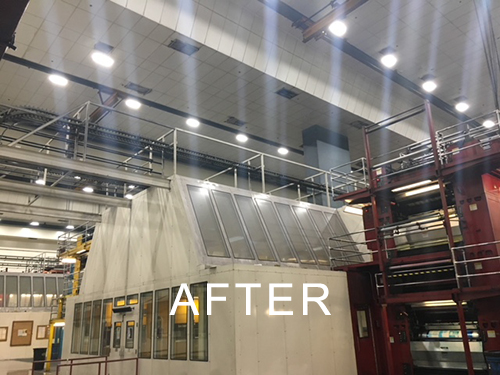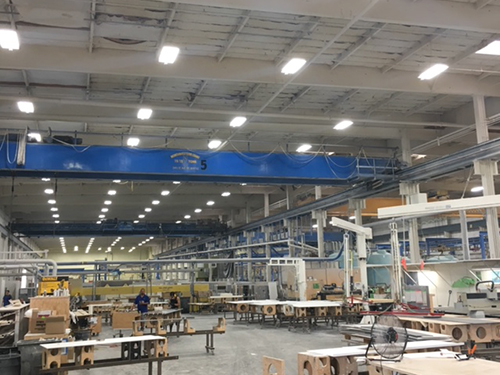 Puget Sound Energy rebates: $62,234.51

Cutting granite, quartz, and other luxury stones is easier when you can see what you're doing. D.C. Bach Co. took all the T5 and T8 fluorescent out of the factory and offices and completely outfitted the manufacturing plant with hi-lumen LED. A 24/7 operation facility meant huge savings and quick payback for FloForm Countertops- just over 1 year. Standing inside production now gives the appearance of a bright, sunshiny day, every day.
Puget Sound Energy rebate: $60,122.44

D.C. Bach Company facilitated the entire 51-acre Kenmore Campus retrofit, converting every existing interior and exterior light bulb and fixture to LED. Upgrading 3,200 tubes, 1,500 PL bulbs, 300 occupancy sensors along with hundreds of screw-in LED's helped the University become over 40% more lighting efficient. A transition of the campus' entry and parking lot poles to sleek, new LED heads gives the 1956-built location a state-of-the-art appearance at first look. As an institution founded on the studies of natural health sciences, Bastyr U's lighting retrofit project stays consistent with its "going green" agenda.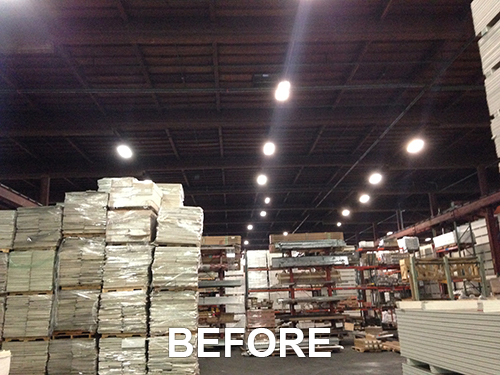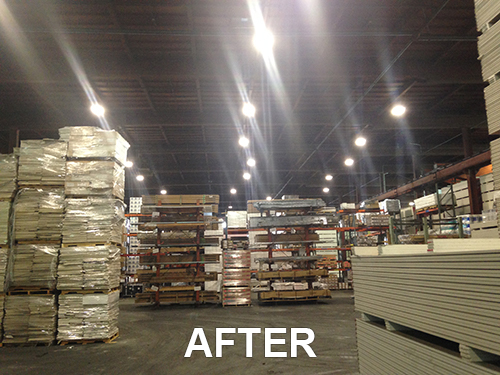 Puget Sound Energy and Seattle City Light rebates: $37,151

Sprawling, cavernous and dark didn't have to define a trio of GTS Interior Supply 80,000 square foot warehouses in Seattle, Kent, and Kirkland. The drywalling company proactively reached out to PSE for help and selected D.C. Bach as its contractor to turn up the lights and turn down the energy bill at three of their Seattle-area facilities.
More than 300 high bay fixtures outfitted with individual occupancy sensors in addition to dozens of exterior wall packs with photocells eliminated the task of shutting off the lights after business hours for GTS. Nearly 60% savings in lighting costs were a nice little bonus of the LED retrofit projects as well.
Puget Sound Energy rebate: $42,712.20

"The brighter, the better" is the desired look for any car dealership wanting to show off its merchandise to passersby. A customer of D.C. Bach from more than a decade, Younker Nissan in Renton called in a simple request to replace a select few high ceiling tubes to LED, which resulted in a full-scale LED quote and retrofit. D.C. Bach helped troubleshoot and locate LEDs powerful enough to outperform high-wattage metal halides and light-up the entire lot while keeping the housing of the fixtures consistent with Nissan's corporate-wide mandate. The result, in part, was a 70% reduction in lighting energy costs.